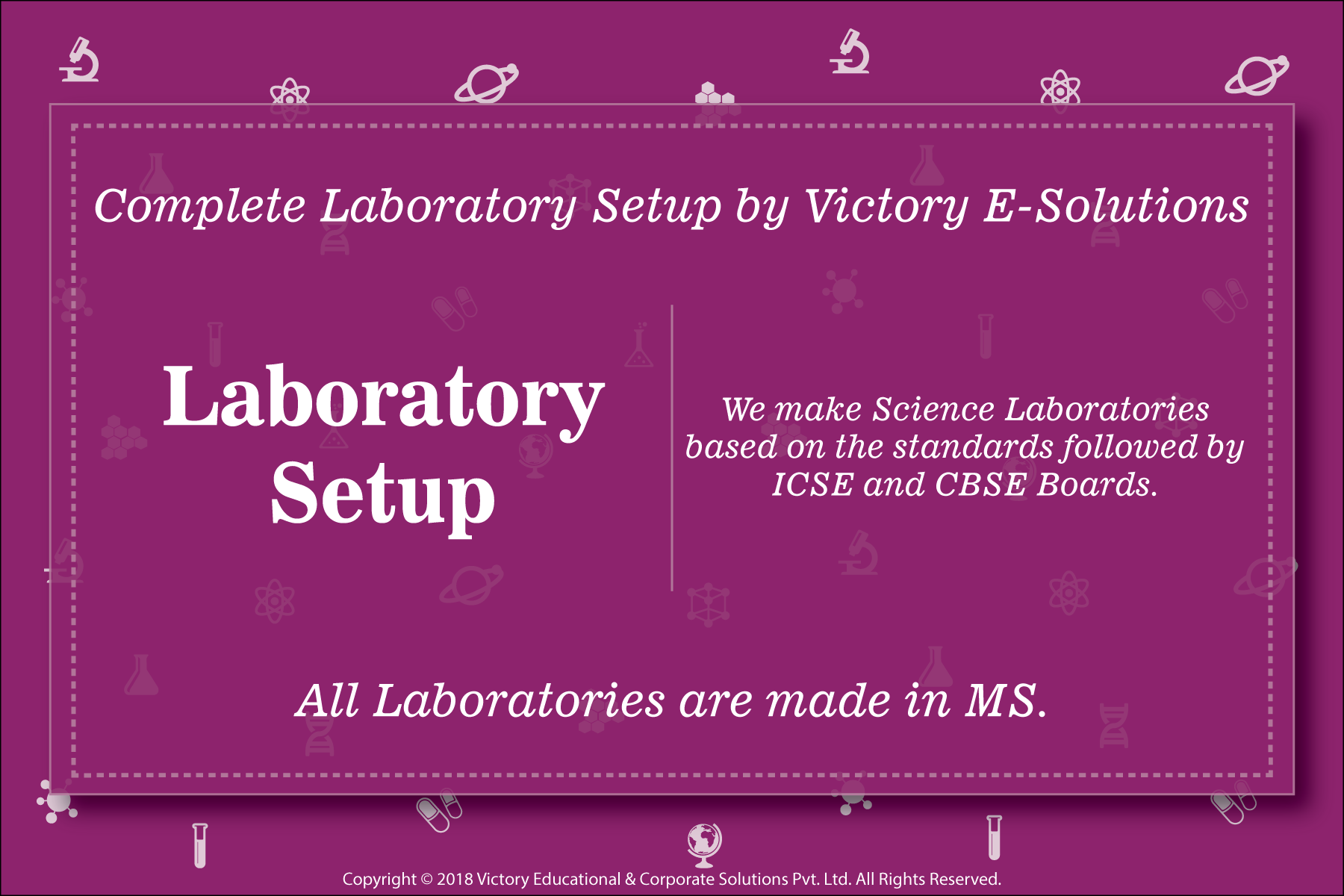 Complete Laboratory Setup, Maintenance, Upgradation & Renovations
Nowadays, its a trend of learning practically i.e. not only using theories but by using Learning-by-doing concept.
Victory E-Solutions Offers Complete Laboratory Setup for Chemistry, Physics, Biology and Computer Laboratories.
Victory E-Solutions provides complete setup of Laboratories. Whether its Biology, Physics, Chemistry or Computers.
We help in New Laboratory Setups as well as Renovations by Designing the Laboratory from empty rooms to fully functional Setup including Setting up furniture like laboratory carts, shelving, tables, storage systems, setting up laboratory equipment & instruments such as Refrigerators, Fume Hoods, Incubator, scales and balances, centrifuges, etc. and stocking of Chemicals, Plasticware, Glassware and Safety Measures.Thus, we can serve all your laboratory needs.
We help in setup of these laboratories in Schools, Science Colleges, Medical Colleges etc. We have already completed more than 40 setups for various ICSE and CBSE Schools.
We provide setup guidance based on ICSE and CBSE standards.
All our laboratories are made in MS with Granite Tops (Chemical Proof)
Stands are made of MS and are powder coated with 50 colour options to choose from.
5 Years warranty for the laboratories made by us.
We are official dealers of Scientific Apparatus, Equipment, Chemicals, Glassware, Instruments and various Supplies for Science Laboratories.
Guidance for Laboratory Setups
We have Expert Professors on our Panel for Laboratory Setup Suggestions and Guidance.
Our experts suggest Cost Effective Solutions for Educational Institutions, helping them to save cost by:
Procuring Grade-wise Material.
Stocking grade-wise Inventory and suggesting only required material, esp. for new Institutions.
Suggesting the size criteria for all kinds of Laboratories.
All-in-one Laboratory Setup Guidance.
Delivery of All 3 Laboratory – Chemistry | Biology | Physics Setup – 45 to 60 days.
Delivery of only Chemistry Laboratory – 25 days(approx).
Delivery of only Physics Laboratory – 20 days(approx).
Delivery of only Biology Laboratory – 20 days(approx).